Celebrating 60 Years! 1962-2022
We're All About Your Survival
The mission of The American Civil Defense association (TACDA) is to provide education, products and resources that empower American Citizens with a comprehensive understanding of reasonable preparedness strategies and techniques; promoting a self-reliant, pro-active approach to protecting themselves, their families and their communities in the event of nuclear, biological, chemical or other manmade and natural disasters.
The Journal of Civil Defense
The Journal of Civil Defense began publication in the early 1960's when TACDA was organized. Back then the Journal was called "Survive". For almost 60 years TACDA has been publishing articles on a wide variety of civil defense topics, boasting the greatest selection of survival information and tactics under one organization. Articles are carefully selected and are written by scholars, military professionals, emergency personnel, and experts on civil defense.
The Journal of Civil Defense topics include:
Current national security threats
Practical survival techniques
Home and personal defense strategies
Nuclear weapons effects
Protection of material assets and survival of natural disasters
Food storage and preservation
Underground sheltering
Gun safety
Mass shooting situations including prevention, analysis, and take down
Homeopathic medicine
Home safety equipment
Evacuation in emergencies
72 hour kits
And many more…
It's TIME to PREPARE!
Journals are mailed twice a year (in April and October) and include an invitation link to our monthly civil defense meetings via Zoom!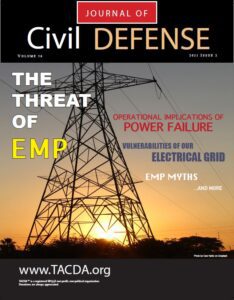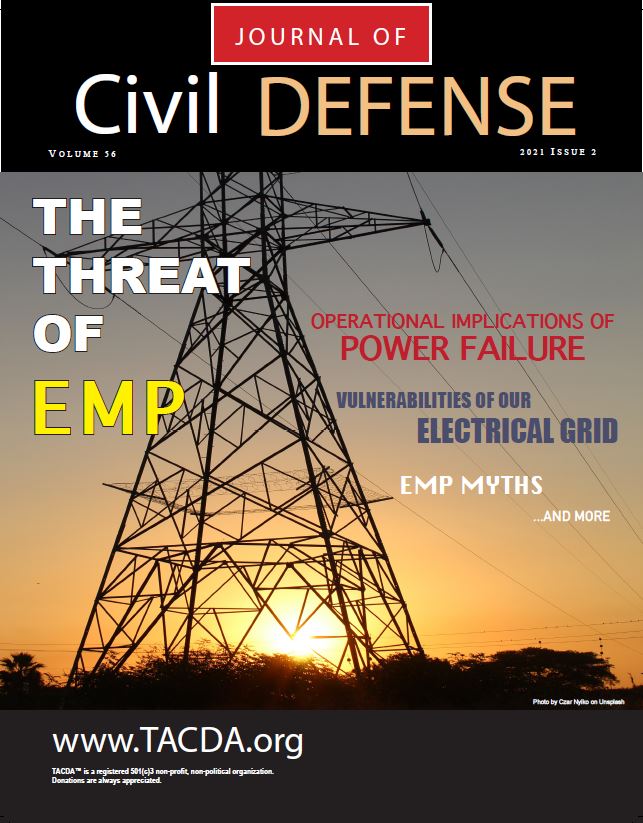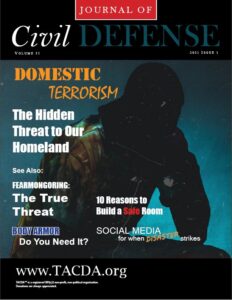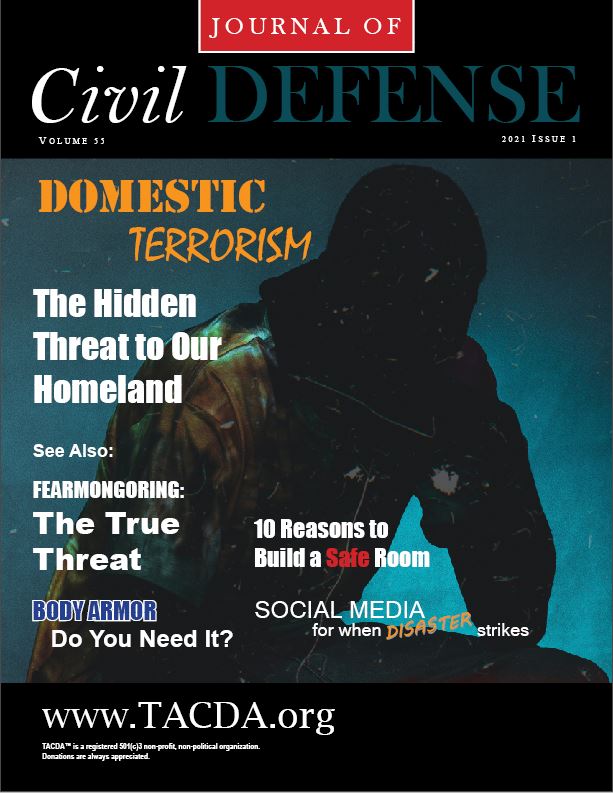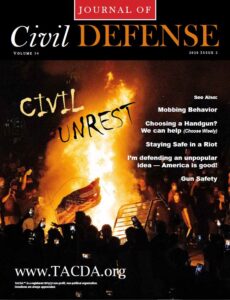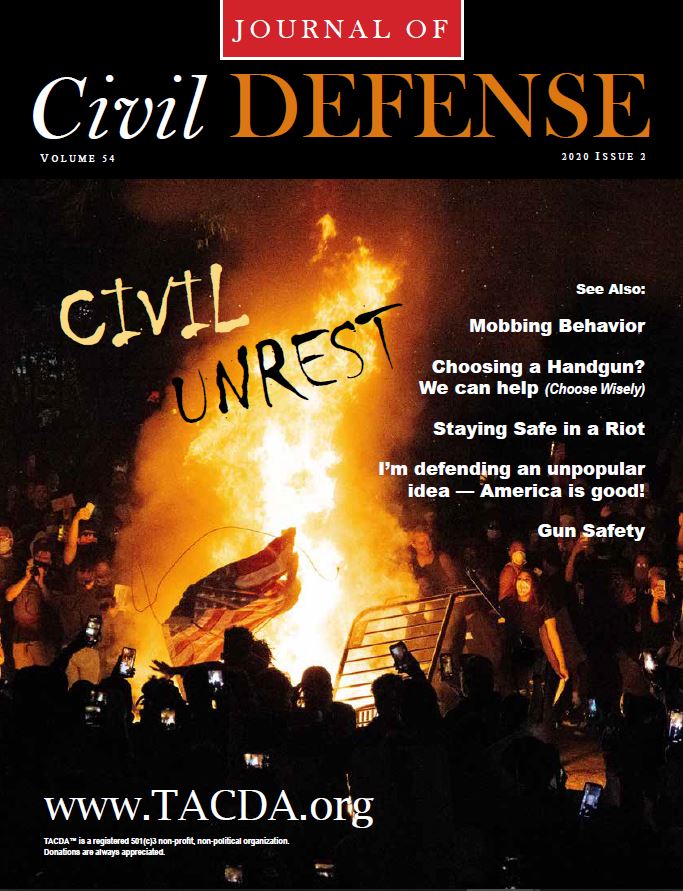 TACDA is pleased to be able to offer live monthly civil defense webinars for our Journal Subscribers!
Thanks to Zoom it is now possible for you to meet with us on a regular basis no matter where you live.
With your Journal subscription you will receive monthly emails with a private Zoom link to learn from the experts face to face!
The meeting schedule and previously recorded meetings are available to view on the TACDA Resources Page.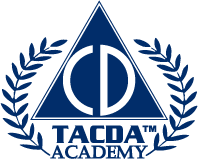 The TACDA Academy provides free essential detailed education for everyone.
In the TACDA Academy, you can access a growing series of online courses. These courses contain materials and information that have been collected over decades of research. They can help empower you, your family and your community with the knowledge, skills, and resources necessary to be prepared for all types of natural and manmade disasters and emergencies.
The TACDA Blog offers hundreds of searchable articles on emergency preparedness and will help you prepare for the next big disaster!
Recent Blog Posts-
Power Outages and The Dangers of Carbon Monoxide Poisoning

Doctors For Disaster Preparedness

Using Emergency Management During Civil Unrest

How To Prepare for ANY Disaster

'Coronavirus and Veterans

'

Global

Virtual Forum to Address

Solutions for U.S. Military Veterans Amidst The Pandemic

Growing Your Own Food From Seed

Hydration Awareness: 10 Ways to Be 'Water Wise' (Even While Sheltering in Place)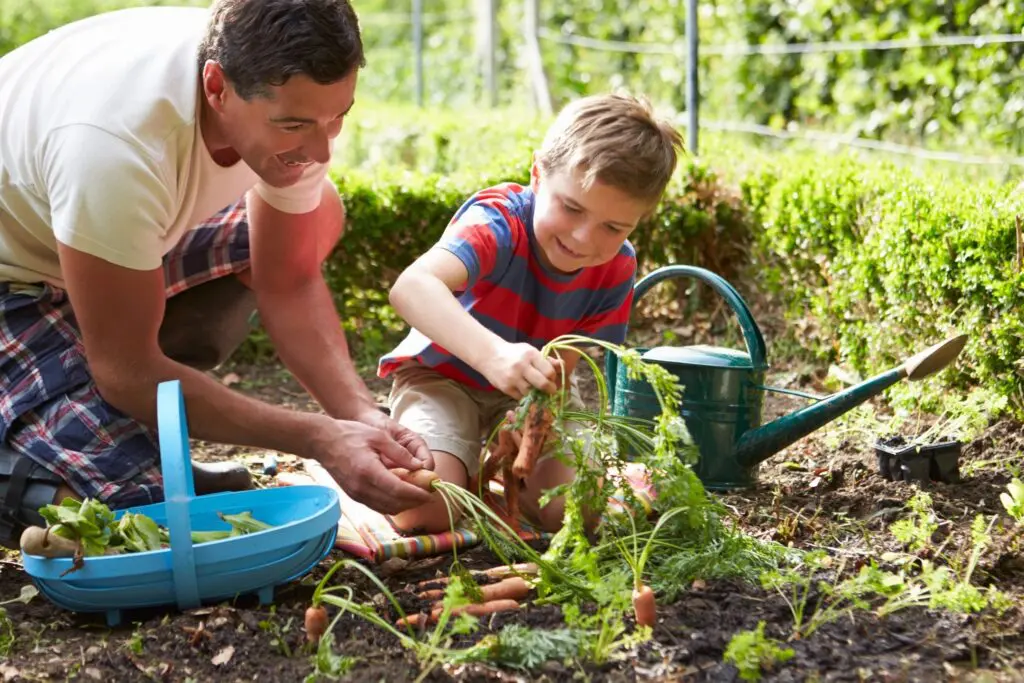 Become A Member of TACDA!
Now is the time.
Join us today and let us help you PREPARE!
It's the small donations that we count on and need to continue our mission.
The American Civil Defense Association (TACDA) empowers Americans through educational means, to protect their homes and families against natural and man-made emergencies and disasters. With mounting civil unrest and record-breaking natural disasters upon us, there is no better time to prepare!
We believe that being prepared for emergencies and disasters creates safer neighborhoods, promotes peace, and reduces fear. Your donation will help TACDA continue its mission and keep memberships FREE so that every American regardless of income can utilize the resources TACDA offers.
Scam Alert! Beware of rumors, fearmongering, and scams concerning COVID-19!
Please be aware that there are many scams, scaremongering, and false rumors going on in the cyber world at this time. We suggest that you be extremely vigilant of where you are getting your information concerning the coronavirus and its implications. Use trusted websites such as the World Health Organization (www.who.int), FEMA (www.fema.gov), the National Institutes of Health (www.nih.gov), the Centers for Disease Control and Prevention (https://www.cdc.gov/) other government websites (ending in .gov), and your local and state government websites.
Please be part of the solution by not spreading rumors or conspiracy theories, especially those that incite fear. Make sure that your source of information is accurate and reliable.
We wish you and your family health and peace at this difficult time.