We're All About Your Survival
The mission of The American Civil Defense association (TACDA) is to provide education, products and resources that empower American Citizens with a comprehensive understanding of reasonable preparedness strategies and techniques; promoting a self-reliant, pro-active approach to protecting themselves, their families and their communities in the event of nuclear, biological, chemical or other manmade and natural disasters.
Join our monthly civil defense meetings! Meetings are held the second Saturday of every month at 6pm MST for 1 hour. Zoom links will be emailed the night before the meeting. Registration is required. All TACDA members with valid email addresses will be invited. Meetings will be recorded and shared upon request. See "Resources" page for Civil Defense Volunteers of Utah meeting outlines.
Recent Article in the Journal of Civil Defense
In This Issue
STAYING SAFE IN A RIOT
In this issue civil defense experts teach how to stay safe in a riot, why riots happen in the first place, and what you can do to protect yourself and your family. It also gives in depth guidelines on choosing and purchasing a hand gun for personal protection and even how to properly and safely use the weapon. Articles in this issue also include information on how to survive an active shooter incident, natural disasters, and more!
Staying Safe In A Riot: By Sharon Packer, MS Nuclear Engineering, TACDA Board
People often have justifiable grievances, and there are proper ways to deal with these concerns.
The First Amendment guarantees the right to peaceable assembly and the right to petition the government for redress of these injustices. 
Many times, and for any number of reasons, peaceful demonstrations can erupt into chaos.  The constitution does not give a right to loot, riot, or destroy public property.  In some cases, individuals with their own nefarious agendas take advantage of a peaceful assembly and intentionally – and by design – push the crowds into a rage.  These individuals often come from other places outside the community, and once the looting and rioting has begun, they....
Also Contains Articles on:
Avoiding And Surviving Active Shooters, Mobbing Behavior, Purchasing A Gun? We Can Help., Should America Be Following Taiwan's Corona Plan?, Gun Safety, I'm Defending An Unpopular Idea: America Is Good, NBC Shelter Q & A, Congress Sees "Red" Over CD V-156 Blood Shipping Container, The Air Raid Warden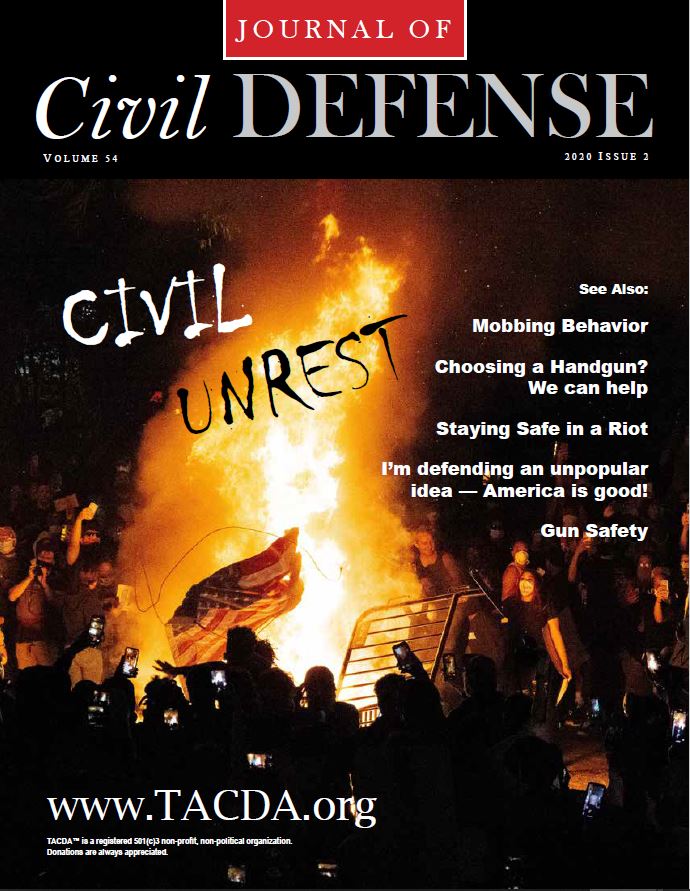 2020
Volume 54 - Issue 2
CIVIL UNREST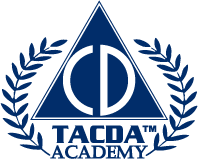 The TACDA Academy provides free essential detailed education for everyone.
In the TACDA Academy, you can access a growing series of online courses. These courses contain materials and information that have been collected over decades of research. They can help empower you, your family and your community with the knowledge, skills, and resources necessary to be prepared for all types of natural and manmade disasters and emergencies.
Scam Alert! Beware of rumors, fearmongering, and scams concerning COVID-19!
Please be aware that there are many scams, scaremongering, and false rumors going on in the cyber world at this time. We suggest that you be extremely vigilant of where you are getting your information concerning the coronavirus and its implications. Use trusted websites such as the World Health Organization (www.who.int), FEMA (www.fema.gov), the National Institutes of Health (www.nih.gov), the Centers for Disease Control and Prevention (https://www.cdc.gov/) other government websites (ending in .gov), and your local and state government websites.
Please be part of the solution by not spreading rumors or conspiracy theories, especially those that incite fear. Make sure that your source of information is accurate and reliable.
We wish you and your family health and peace at this difficult time.
It's the small donations that we count on and need to continue our mission.
The American Civil Defense Association (TACDA) empowers Americans through educational means, to protect their homes and families against natural and man-made emergencies and disasters. With mounting civil unrest and record-breaking natural disasters upon us, there is no better time to prepare!
We believe that being prepared for emergencies and disasters creates safer neighborhoods, promotes peace, and reduces fear. Your donation will help TACDA continue its mission and keep memberships FREE so that every American regardless of income can utilize the resources TACDA offers.